Project Sunbird flying high
Project Sunbird is a joint anti-fraud initiative between WA Police Major Fraud Squad and Consumer Protection, looking at money being sent from Western Australia to African countries such as Benin, Ghana, Nigeria, Sierra Leone and Togo.
When the financial intelligence data is analysed, non-fraudulent money transfers e.g. for business reasons or by Africans in WA to relatives back home, are eliminated. Those left are identified as possible fraud victims and regrettably, the majority of the time it's people in fake relationships with someone they met on the internet and have never seen face-to-face.
The senders are notified that they are likely caught up in a fraud via a joint letter from WA Police and Consumer Protection to the Householder. The results are significant – about six out of 10 stop sending after the first letter.
When a person is identified as continuing to send funds, a more detailed second letter is sent direct to the person sending funds. About 40% stop sending after the second letter.
Project Sunbird letters have been sent to more than 1,965 people. Of those people, more than 150 contacted WA ScamNet in response to the letter and it is astounding to find that their total combined monetary loss was nearly $9,500,000.
Aside from letters there are one-to-one 'proof it's a scam' sessions which our officers and WA Police Major Fraud Squad Detectives conduct with victims. There's also a lot of background disruption (shutting down scammer email and social media accounts etc.) and investigation activity to look at the web of false identities used, where wire transfers are being collected and dodgy bank accounts at the centre of the frauds.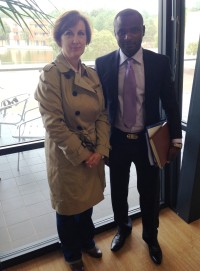 A new program has seen detectives from Nigeria's Economic and Financial Crimes Commission (EFCC) come to WA to work collaboratively on cases which involve Nigerian suspects and has even resulted in arrests in relation to romance and property investment frauds that targeted Western Australians.
In early 2014 two members of the EFCC came to Perth and as well as learning from WA Police, they shadowed WA ScamNet's research officers and viewed the Project Sunbird intelligence database at Consumer Protection.
The Nigerian officers also met Perth romance fraud victim Jenny (pictured right with EFCC Deputy Detective Superintendent Daniel Danladi). They had been able to make an arrest in connection with her case before flying to WA.
The success of Project Sunbird is being monitored by other states and territories and the activities may be mirrored elsewhere in Australia.
You can read more about the initiative, hear stories from romance and investment fraud victims and find tips to avoid falling victim at www.scamnet.wa.gov.au/projectsunbird
If you are sending money to someone you met online and want to talk to a Project Sunbird officer about any uncertainties, call 1300 304 054 and ask for Project Sunbird.
Page created May 2014