Skills West Expo
Jet was at the Skills West Expo with Consumer Protections WA's other mascot iShop WA on Friday the 10th of August.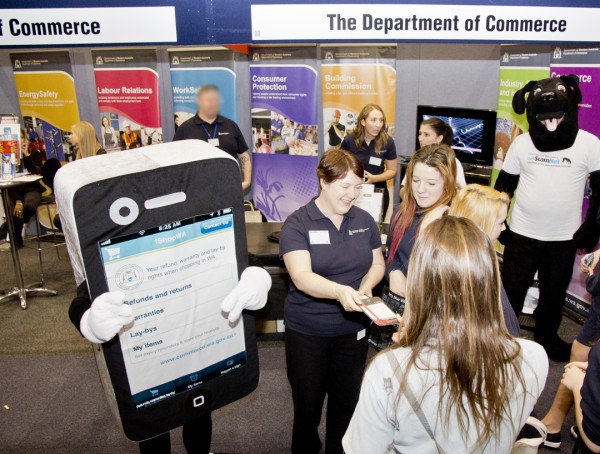 North West Expo in Broome.
Jet attended Family Week in Broome, participating in a Zumba class to keep herself fit for fighting scams
North West Expo
Here Jet helps out at the North West Expo in Broome.
Fraud Week 2012
WA ScamNet mascot Jet and Consumer Protection's community education team gave out "Slam Scams" information in Perth on the morning on Tuesday 20 March 2012 as part of National Consumer Fraud Week (19-25 March 2012).
South West Seniors Expo
WA Scamnet mascot Jet has been giving her paws a substantial workout with appearances at various events throughout Western Australia. First stop for the loveable Labrador was the South West Seniors Expo in Bunbury on 6 November, where Jet joined a representative from the ACCC to educate consumers on the dangers of scams and champion the work of Consumer Protection.
The Expo was held at the South West Sports Centre and organisers estimate more than 7,000 seniors, their relatives and carers from the Greater Bunbury area attended. CP staff recorded 343 quality contacts and at least 2,000 brochures, booklets, and products were given out on the day. Particularly strong interest was shown in the new information packs put out by the Seniors' Housing Centre.
Jet was a favourite with young and old and even managed to snare a photo with the Mayor of Bunbury, David Smith. In all, the event was a rousing success.
Next stop for the considerate canine was Karratha, where she braved 40 degree temperatures to attend the final market day for 2011 at Millars Well Primary School on 20 November. The event was organised by Soroptimist International of Karratha and Districts.
Jet proved to be very popular with attendees and at one stage was mobbed by enthusiastic children. She met more than 300 people while handing out balloons and other useful CP information.
The last stop on Jet's exhausting itinerary was on Sunday December 4 at Langley Park, where she handed out WA Scamnet postcards after the annual Christmas Pageant. It was another successful appearance in what has been a very busy first few months as the WA Scamnet mascot.