Project Sunbird Media Statement: Fraud intervention and prevention in Kalgoorlie

More than twenty suspected fraud victims in Kalgoorlie Boulder are due to receive an intervention visit as part of Project Sunbird – a joint anti-fraud initiative between WA Police Major Fraud Squad and Consumer Protection.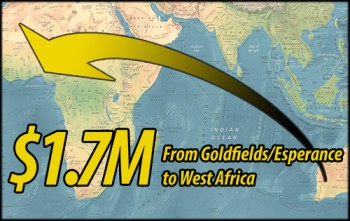 The potential romance or investment fraud victims have been identified through money transfers to West Africa. The total recorded monetary loss for the Goldfields-Esperance region appears to be more than $1,700,000.
Head of the WA Police Major Fraud Squad, Detective Senior Sergeant Dom Blackshaw, said the aim of the visits was to stop fraud victims sending more money to organised criminals.
"Western Australians are sending about half a million dollars a month in total to West African countries like Ghana, after being drawn into fictitious relationship or investment scenarios," he said.
"During our home visits we give the victims proof that they are embroiled in elaborate scams and show real life examples of the tried and tested methods being used by overseas criminals to defraud them and other members of the WA community.
"Bogus schemes that victims believe they are funding vary from the building of orphanages or medical centres to diamond or gold mining opportunities."
DSS Blackshaw said Project Sunbird has also highlighted the issue of fraud victims being used as mules to launder dirty money or encouraged to take dangerous trips overseas.
"The criminals create reasons to transfer money into the bank accounts of the victims and ask them to forward the money on; often to another country. This puts the victim at risk of potentially being prosecuted for money laundering offences," he said.
"We have also had to step in to try and prevent Australians from travelling to countries such as Ghana or Nigeria to avert potential extortion plans by organised criminal gangs who pose as love interests, friends, or investment scheme operators."
A free community education session to raise awareness of these types of frauds and offer preventative tips will take place on the evening of Wednesday 31st of July at the banquet room in Kalgoorlie Town Hall. The session will start at 6.30pm and run for about 45 minutes with time at the end for questions.
Commissioner for Consumer Protection Anne Driscoll said similar sessions had been held in Geraldton and Katanning. She added that work continues behind the scenes to alert and help fraud victims.
"In June, more than 150 letters were posted to Western Australians believed to be caught up in these consumer frauds. There is a phone helpline for victims and the opportunity of one-to-one meetings with officers who work on Project Sunbird," she said.
"Our WA ScamNet officers continue to disrupt scammers by shutting down email or social media accounts, bogus dating website profiles and reporting wire transfer recipient details to Western Union to prevent identities being re-used in fraudulent transactions."
Project Sunbird page includes victim stories and a factsheet. If you would like to talk to WA ScamNet about a suspected scam/fraud you can do so by calling 1300 30 40 54 or emailing wascamnet@commerce.wa.gov.au.
Page created 25 July 2013
Last modified 30 July 2013