Back of van conmen sell fire hazard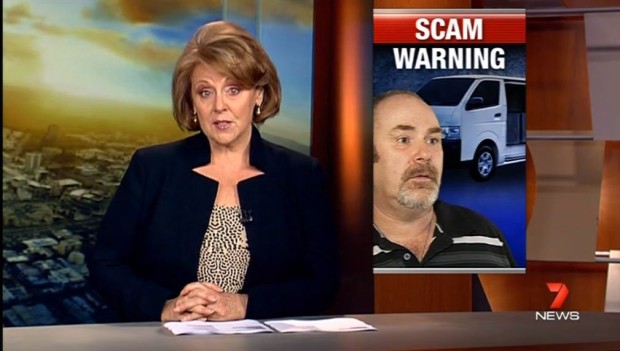 Click on the image to view Channel Seven's News scam warning report, aired 7 November 2013.
A Wundowie consumer has reported a home entertainment system he had bought from back of van conmen began to catch fire in his home, sparking a warning from Consumer Protection.
The incident comes amid a growing number of reports suggesting a sharp increase in travelling conmen activity in Perth in recent months.
The Wundowie man had bought the television projection and surround sound system from travelling conmen who were selling audio-visual equipment from the back of a white van in the car park of a hardware store in Midland this week.
When he returned home and set up the system, the amplifier began to overheat and smoke started emanating from the unit, creating a serious fire hazard. Luckily the unit was quickly disconnected before serious damage was caused.
Commissioner for Consumer Protection Anne Driscoll said this incident highlights the dangers of buying products from travelling conmen.
"The consumer in this case reported that, when he unpacked his purchase, the equipment inside did not match the description and models portrayed on the labels on the box," Ms Driscoll said.
"This is a typical deception by these travelling conmen, who often sell inferior and sometimes counterfeit products at a high price, convincing their targets that they are getting a genuine bargain. Instead, consumers are paying far too much for goods that are generally low in quality and, as in this case, could be dangerous as they may not comply with Australian safety standards."
Consumers have no chance of a remedy if the goods are faulty and are unable to make a warranty claim as the conmen are impossible to track down after the sale is made. It's common for them to give out business cards with fake names and phone numbers.
"The travelling conmen are also breaking consumer laws which require a ten-day cooling off period for unsolicited sales. We urge all consumers when approached by these back of van conmen to refuse to deal with them – it's the only way to drive them out of business."
Consumer Protection has recorded a rise in travelling conmen activity recently with 277 reports in the past 12 months, the vast majority being back of van sales. The conmen targeted various suburbs in the Perth metropolitan area, with the greatest activity occurring in the suburbs of Midland (17 reports), Cannington (11), Morley (10), Maddington (10), Belmont (9) and Rockingham (9). Primarily they operate from the car parks of major shopping centres and retail outlets, as well as service stations.
Consumers who manage to get information about these illegal traders, such as a vehicle registration number, descriptions of the people and any names or business details, can call the national travelling conmen hotline: 1300 133 408.