Bulldog puppies are the subject of puppy scams yet again. This time, these highly sought after pups were advertised on a fake website, Aussie Bulldogs.
www.aussiebulldog.net
WA ScamNet has received a new report involving bulldog puppies with a loss of $3000 reported. The consumer responded to a Facebook post on "Bulldogs For Sale Australia". The page asks the consumer to make contact via email on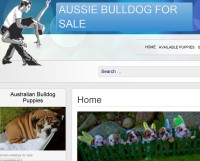 aimee.teikake@gmail.com to discuss the purchase of a puppy.
When the consumer sent the email, she was provided with pictures of a puppy and believed that the puppy was to be delivered within a few days, but that $3,000 was needed to be paid upfront.
The consumer paid $3000 into a Commonwealth Bank account and has now reported the transaction in order to attempt to recall the funds. The Facebook page has been reported and is pending shutdown, and the website http://aussiebulldog.net/ has also been reported.
www.glingbullpuphomes.com
A consumer paid $2400 for a puppy and had not received it. The consumer's friend then contacted the 'seller' and was told the puppy was still available and payment should go into a new bank account.
The fake website claiming to be an authorised English and French bulldog puppy breeder has since been reported to the website host and has been taken down.
Tips for buying a puppy
There are legitimate sellers who advertise puppies for sale on websites but a little research to verify their identity goes a long way.
For tips on buying puppies and other pets, see Consumer Protection's guide to buying a pet and WAScamNet Tips for Pet-Buyers. The RSPCA also provide the Smart Puppy and Dog buyer's guide, which suggests visiting the place where the puppy was born and meeting the puppy's parents.