Scam protection
Subscribe to WA ScamNet alert and keep informed about current scams. Read more tips on fighting back and protecting yourself against scammers.
---
Australasian Consumer Fraud Taskforce Survey 2014
The Australian Institute of Criminology conducts the annual Australasian Consumer Fraud Taskforce Survey to get a snapshot of the scams and fraud the public has been exposed to and improve the way these issues are dealt with.
This year's survey was available to completed between 1 January and 31 March 2014.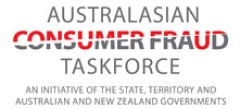 ---

Project Sunbird, a Western Australian Police initiative, in conjunction with Consumer Protection, warns about the dangers of sending money overseas. Relationship fraud has left Western Australians with broken hearts and bank balances ($4.5 million heartbreaking fraud losses).
Recent stories of tragedy and heartbreak:
---
Stevie the reformed scammer is back with six new videos aimed at protecting consumers and small businesses from common 'advance fee fraud' scams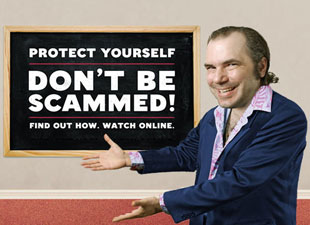 Contact Us
Contact WA ScamNet to report a Scam
Media
Online Scams (12-2-2014)
More...
Scams in the news
Read the latest online external news articles liked by WA ScamNet.
---
Media statements
Lastest releases from Consumer Protection and WA ScamNet:
---
Recent scam warnings
ACMA released a warning as scammers claim to be representatives of the Do Not Call Register.
Stay Smart Online warning about blackmail attempts through video services like Skype.
A warning to beware of scammers taking advantage of the ballot to attend the 100th anniversary of the Gallipoli campaign. - ScamWatch
The Australian Federal Police (AFP) - warning after a Perth couple were used as drug mules after responding to holiday prize scam.
(Recent warnings will be removed after four weeks and posted in the news articles page.)
---
iPhone and Android Apps
.
RSS Feeds