Get the scam before it gets you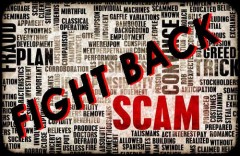 Get warnings:
Subscribe to WA ScamNet alerts and keep informed about current scams.
Get savvy:
Read more tips on fighting back and protecting yourself against scammers.
Get help:
We have found organisations to help you with personal, financial or legal counselling on our help for victims page.
Get the app:
---

CRIME STOPPERS
Crime Stoppers WA is an independent, not-for-profit organisation and registered charity, helping keep our communities safer.
No crime is committed in secret and Crime Stoppers enables you to anonymously report criminal activity and suspicious behaviour, either online at crimestopperswa.com.au or by phoning 1800 333 000. It's never too late to report.


Contact Us
Contact WA ScamNet to report a scam.
Media
Scam statistics and mail destruction - Ch 10 News (18/01/2016)
More...
RSS Feeds