Get the scam before it gets you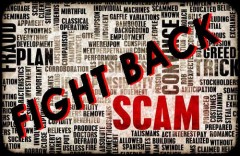 Get warnings:
Subscribe to WA ScamNet alerts and keep informed about current scams.
Get savvy:
Read more tips on fighting back and protecting yourself against scammers.
Get help:
We have found organisations to help you with personal, financial or legal counselling on our help for victims page.
Get the app:
---
WHITE VAN WARNINGS
.
Watch out for dodgy deals done from the back of a van
3 March 2016: Avoid illegal back of van sales
Here are some previous warnings:
2013 Back of van conmen sell fire hazard
2012 Dodgy 'back of van' salesmen
---

Project Sunbird aims to stop online relationship fraud which has already left Western Australians giving scammers over $4.5 million.
---


Contact Us
Contact WA ScamNet to report a scam.
Media
Parish identity theft - Ch 7 News (07/03/2016)
More...
RSS Feeds