Scam protection
Subscribe to WA ScamNet alerts and keep informed about current scams. Read more tips on fighting back and protecting yourself against scammers.
---

As part of an annual awareness campaign, the ACFT invites consumers to participate in an online survey to improve the prevention, detection and investigation of consumer fraud activities.
---

Are you interested in learning more about internet security and how to protect yourself when using a computer? Visit our Seniors Online Security page to get started.
---

Project Sunbird, a Western Australian Police initiative, in conjunction with Consumer Protection, aims to stop online relationship fraud victims sending money to overseas-based criminals. Relationship fraud has left Western Australians with broken hearts and bank balances ($4.5 million heartbreaking fraud losses) and has resulted in at least one associated death.
---
Stevie the reformed scammer is back with six new videos aimed at protecting consumers and small businesses from common 'advance fee fraud' scams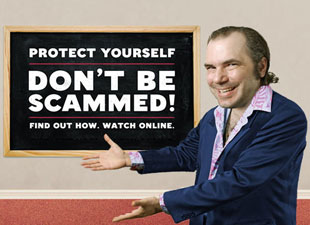 Contact Us
Contact WA ScamNet to report a scam.
Media
Identity Theft - Ch 9 News (20/4/2015)
More...
RSS Feeds