Scam protection
Subscribe to WA ScamNet alerts and keep informed about current scams. Read more tips on fighting back and protecting yourself against scammers.
---

If you are a small business operator or adviser, watch the small business scams and cybercrime forum video to learn more about the risks that have the potential to impose significant financial, legal and reputational costs on small businesses and their customers.
Consumer Protection also have a video from a small business scam talk for you to view:
---

Are you interested in learning more about internet security and how to protect yourself when using a computer? Visit our Seniors Online Security page to get started.
---

Project Sunbird, a Western Australian Police initiative, in conjunction with Consumer Protection, aims to stop online relationship fraud victims sending money to overseas-based criminals. Relationship fraud has left Western Australians with broken hearts and bank balances ($4.5 million heartbreaking fraud losses) and has resulted in at least one associated death.
---
Stevie the reformed scammer is back with six new videos aimed at protecting consumers and small businesses from common 'advance fee fraud' scams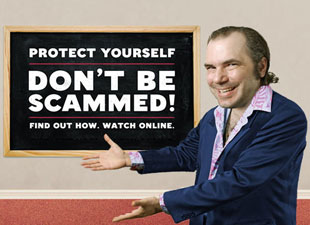 Contact Us
Contact WA ScamNet to report a scam.
Media
Phone scam - Ch 7 Today Tonight (15/10/2015)
More...
RSS Feeds