A warning about Pacific Mobile Phones scam
Consumer Protection is warning consumers and the publications industry not to deal with Pacific Mobile Phones – a bogus business offering smartphones, tablets and cameras at 'unbeatable prices'.
Since June 2015, consumers and advertising or publishing professionals have reported concerns to WA ScamNet about Pacific Mobile Phones. Among them was a Perth university student who paid $700 for an iPhone 6 that never arrived.
Acting Commissioner for Consumer Protection Gary Newcombe says an investigation has shown obvious signs of fraudsters in action.
"Pacific Mobile Phones is a business name registered in New South Wales but Consumer Protection has spoken with the director who advised that it is no longer an active business and he has satisfied us that recent activity is nothing to do with him.
"Advertisements offering mobile phones and other electronic devices for sale have appeared in magazines and newspapers in Western Australia. Publishing and distribution companies Australia-wide have been asked to produce and disseminate thousands of flyers and glossy brochures. We understand stolen credit cards were used to pay in each instance and that communication was via email.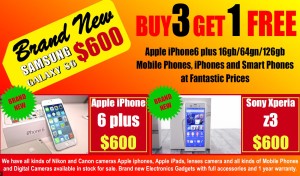 "Attempts to contact whoever is behind the current Pacific Mobile Phones have uncovered several other irregularities in the way the business is run including:
no true physical premises despite the use of NSW and UK addresses;

phone numbers re-routed overseas;

questionable email addresses and email communication;

seeking payment by wire transfer (MoneyGram); and

false claims of affiliation with a known Queensland mobile phone company."
Anyone who has paid money to Pacific Mobile Phones and is waiting for their purchase should contact WA ScamNet by calling 1300 30 40 54 or emailing consumer@commerce.wa.gov.au.
Anyone who sees advertisements for Pacific Mobile Phones in magazines, newspapers or via a brochure in their letterbox should not respond and report the advertisement to the publisher.
Page created 03 August 2015