The Australian Competition and Consumer Commission (ACCC) produce an annual report, usually released in mid May, on scam activity from the data they collect.
This report produced annually explains key trends in scam activity and highlights the impact of scams on the community.
It highlights the cooperative work of the ACCC, other regulators and law enforcement agencies to disrupt scams and educate consumers.
The Department of Mines, Industry Regulation and Safety's WA ScamNet's reviews are also available.
2019 report
This report provides key findings into 2019 scams, as well as insights into scam trends over the decade.
It also includes commentary on the psychological tactics that scammers use to manipulate victims and the lessons learned from people who reported a scam but did not lose money or personal information.
Australians lost over $634 million to scams in 2019. This is a 30 per cent increase on 2018, when $489 million was reported lost.2 Australians made 167 797 reports to Scamwatch in 2019 and, concerningly, although we received 5 per cent fewer reports than in 2018, financial losses increased by 34 per cent.
Read the full report - Targeting scams 2019: a review of scam activity since 2009.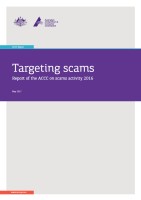 Reports available:
Current and previous year's reports, including various accessible versions, are available from the ACCC website.