Targeting scams: report on scam activity
The Australian Competition and Consumer Commission (ACCC) produce an annual report, usually released in mid May, on scam activity from the data they collect.
This report produced annually explains key trends in scam activity and highlights the impact of scams on the community.
It highlights the cooperative work of the ACCC, other regulators and law enforcement agencies to disrupt scams and educate consumers.
The Department of Mines, Industry Regulation and Safety's WA ScamNet's reviews are also available.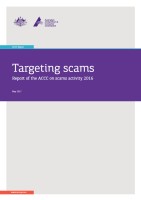 In 2016, the ACCC and the Australian Cybercrime Online Reporting Network (ACORN) received a combined 200 103 reports about scams. Losses reported to Scamwatch, ACORN and from other scam disruption programs totalled almost $300 million. This figure is by no means conclusive of the total cost of scams as many victims do not report their experiences—in fact in April 2016 the Australian Bureau of Statistics published results of its Personal Fraud survey, which estimated the total amount lost to personal fraud to be closer to $3 billion. These figures are staggering and serve as a pointed reminder of how damaging scams are on our society.
Read the full Targeting scams:report of the ACCC on scam activity 2016.

Reports available:
Current and previous year's reports, including various accessible versions, are available from the ACCC website.